Icelandic Sheep Market Place
New book about Icelandic Sheep!!Published (Sept 2015) in English by Caroline Kerstin Mende. "Icelandic Sheep - Colourful All-Rounders" Available directly from Caroline now, or from Amazon in a month or so. I have added a pdf to the "Articles" page of my website giving details about the book and its content. The book contains a lot of information about Icelandic sheep and their fleece.
September 2015For the past 2 years my badgerfaced ram, Yggdrassil, has been keeping my ewes company, and I now have quite a few of his badgerfaced offspring. So I have several purebred rams and ram lambs for sale this year. Some are badgerfaced.

For anyone interested in fleece, I hope to have washed/carded fleece available shortly.
The Wool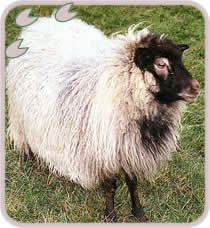 I maintain a balance of earth colours within the flock of icelandic sheep, with few white sheep, as I prefer to spin and crochet natural colours, rather than dye the wool. However I can never be certain what colour lambs nature will produce from any particular mating! It makes lambing time very exciting.
Icelandic sheep have an unusual double-coated fleece that I love to turn into lopi wool.
Living the Dream
There is nothing nicer than watching my icelandic sheep of many colours browsing in the fields against a backdrop of Welsh hills and valleys. Seeing their coats glint and glow in the sunlight is sheer magic.